The earliest years in a child's life make the biggest impact: Home-Start Hertfordshire makes sure those years count so that no child's future is limited.
What happens in a family during these early years strongly determines the opportunities and life chances children have. Children who are raised in a stable, loving, family environment are more likely to have a positive and healthy future. 
Home-Start Hertfordshire provides families struggling with post-natal depression, isolation, physical health problems, bereavement and many other issues the support of a volunteer family mentor who will spend around two hours a week in a family's home. Through practical and emotional support, they make sure parents have the skills, confidence and strength they need to nurture their children.
The model works because our family mentors are parents or have experience in caring for children. They understand how hard it can be. They work alongside parents, in their own homes, to help them cope with the stresses and strains of life and be the best parent they can be.
Home-Start's Vision
Home-Start Herts believes every child deserves a happy and secure childhood and that every parent should have the support they need to give their children the best start in life.
Home-Start's Mission
We deliver high quality volunteer-led services to support families in Hertfordshire through challenging times.
We step in to support parents through their difficulties as early as possible, helping them grow in confidence and build support networks in their community.
We know that what happens in a child's early years will determine their chances in the future, so we're there for parents when they need us most – because childhood can't wait.
Our Impact
A breath of fresh air. A godsend. A life saver. This is how families, in their toughest times, describe the support they receive from Home-Start.
We offer our life-changing support to more than 1,000 people in Hertfordshire each year, including several hundred vulnerable children.
Home-Start's history
Home-Start was founded in Leicester in 1973 by mother-of-three Margaret Harrison, a volunteer for charities working with families and children.
She recognised that with support and friendship from other parents, families are better equipped to cope with difficulties and give their children the best possible start in life.
The idea spread. Home-Start Herts launched in 1983 and is now one of 200 Home-Starts collectively supporting more than 50,000 children across the UK each year.
Home-Start in Hertfordshire
Home-Start first launched in Hertfordshire in 1983, growing into a network of nine local schemes across the county.
Following a devastating funding cut in 2016, six of those Home-Starts merged to create what is now known as Home-Start Hertfordshire.
Our head office is in Stevenage, but we also have operational staff working in each of the areas we cover.
Areas covered by Home-Start Herts:
· North Herts
· Stevenage
· East Herts
· Dacorum
· St Albans
· Welwyn and Hatfield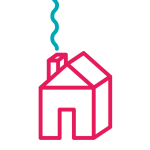 Our team 
Home-Start Herts is made up of 17 staff, over 70 trained volunteer family mentors, and a board of trustees and committee members, all of whom bring specialist skills and experience to support the charity's work across Hertfordshire.
Join our team by becoming a volunteer
Take a look at the difference you have made to families in your community. Thank you for your ongoing support – we couldn't do what we do without you!