As 2019 comes to a close we reflect on what a fantastic year it has been…roll on 2020!
Home-Start Herts have had such a wonderful 2019 and wanted to share a few of the memories from our various events. Thank you to everyone who has supported our fundraising events, whether it was at the Pancake Festival, Skydive, the Ultimate Strongman competition, the Hertford Fun Day, the Murder Mystery & Auction, Carol Singing, accompanying Santa or at one of our other events – you have helped us raise money to help local families find their feet again and thrive. We couldn't do it without you!
Here is a snapshot of all the fun we have had along the way…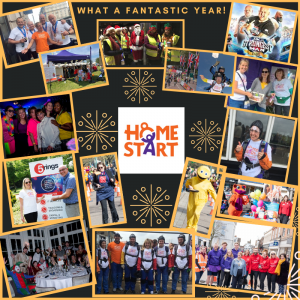 Looking ahead to 2020 we are planning lots more exciting and fun filled events including the popular St Albans Pancake Festival, a Colour Consultation, the famous Home-Start Skydive, the Prudential Ride 100, a Steps Challenge ….and much more including our annual extravaganza – what will the theme be this year?
Be sure to keep an eye on our website and the events calendar so you don't miss out! Click here to view our events calendar.
For more information about Home-Start Herts click here
To make a donation to help a local family click here
For information about volunteering with Home-Start Herts click here